2014-2015 have been milestone years for us, with many notable achievements that we would like to share! To learn more about our programs and the important work we have completed in the past few years, please download our Annual Reports.
Environmental Education and Conservation Awareness Campaign
27 field trips run in 2014-2015, introducing 609 youth to the rainforest and biodiversity around them
62 in-class lectures for junior/senior high school students, and 40 puppet shows for elementary school students, reaching 3,525 students with information about orangutans, their forest habitat, and other environmental issues
Since 2012, 19 scholarships awarded under the Bornean Orangutan Caring Scholarship program
We support 2 permanent youth groups, developing a generation of young people who are actively protecting the environment
In 2015 we started a new project, planning a series of Environmental Education Expeditions to remote villages in the Gunung Palung National Park buffer zone. We have completed 6 expeditions, reaching over 5,000 people, and intend to continue this work into the future.
26 conservation mobile cinema events, attracting 5,990 local people
122 conservation radio shows produced, with an estimated broadcast reach of 400,000 people per month
168 news articles published in print and online media
14,865 followers across three social media platforms (Facebook, Facebook – Indonesia, Instagram, Twitter)
Sustainable Livelihoods
 3 major demonstration plots built at our Bentangor Environmental Education Center: organic agriculture, fish farming, and a seedling nursery
4 Non-Timber Forest Product artisan groups facilitated by GPOCP, encompassing over 60 local households
In 2014 our artisan groups received a $4,000 grant and formal recognition from the Kayong Utara regency as community conservation and small business leaders
In 2015, they sold 949 products worth over $4,000 locally, nationally (in Indonesia) and internationally
In the last half of 2015, we trained 20 local people trained in sustainable aquaculture (fish farming) techniques, a project that looks very promising as a sustainable alternative to logging or farming inside of the National Park
Over 100 people, including 35 youth, trained in organic farming techniques
Wildlife Crime Monitoring and Investigation
Since 2004, our investigation of orangutans illegally held as pets, or otherwise in danger, has resulted in 145 reports to Indonesian conservation authorities
In 2014-2015 alone we reported 26 such cases, resulting in 19 rescues and translocations
Over 190 field-days spent investigating cases of orangutan and other wildlife trafficking
Shared information about hornbill and pangolin trade routes with West Kalimantan wildlife authorities
In 2015, resented results from this program at 2 international conservation conferences, the International Conference on Rainforest Ecology, Diversity and Conservation in Sabah, Malaysia; Zoos and Aquariums Committing to Conservation in Denver, CO, USA)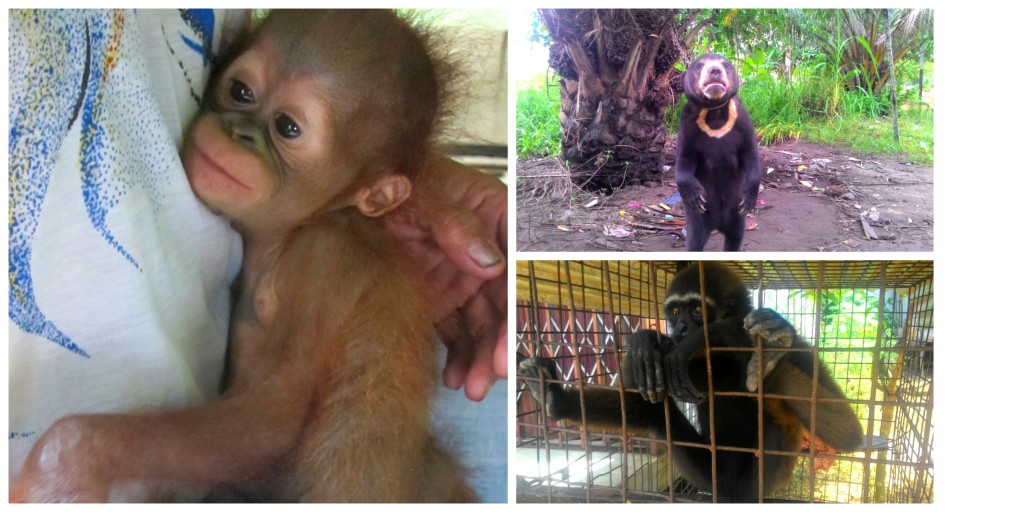 Customary Forest Initiative
Since 2014, we have been working closely with local people and the Kayong Utara regency government to protect 7,500 hectares of orangutan habitat in 2 locations by helping local communities obtain the management rights to this land
90 people across 5 villages in Kayong Utara involved in conservation activities
First-ever biodiversity surveys done in the forests of Sungai Paduan and Sungai Purang (our current Customary Forest project areas)
11 trainings provided to village leaders, including sustainable forest management and the prevention of human-orangutan conflict
We also support the 1,070 hectare Customary Forest in Laman Satong village, established in 2011 by the people of Laman Satong, GPOCP, and Flora and Fauna International-Ketapang. The village is currently earning income through a carbon credit trading scheme, which supports the continued protection of this important habitat.