The Gunung Palung Orangutan Project staff, although small in numbers, have a huge impact on the success of the research project. Without their expertise and hard work in the field, data collection would be impossible! The field team is made up of a Research Manager, 3-4 volunteers and/or graduate students, and the core team of 8 Indonesian field assistants. The staff spend every day in the forest, working in teams of two people to either search for or follow the wild orangutans that we study. A typical follow day involves waking up before dawn to arrive at the orangutan's night nest before the individual awakes and then following that individual until they make their night nest. While following, one field assistant is responsible for taking extensive behavioral data on the focal individual for the entire day. This data includes the primary behavior of the individual for each minute of the day and recording the length of feeding bouts, types of foods eaten, social interactions between the focal individual and other orangutans, mating data, fighting data, and additional notable behavioral observations. The other field assistant is also responsible for collecting urine and fecal samples from the individual, taking GPS tracking data for the duration of the follow, and collecting fruit and leaf samples of the orangutan foods. On days when they are not collecting orangutan data, the field assistants re-tag and clean the trails and collect additional fruit/leaf samples for analysis.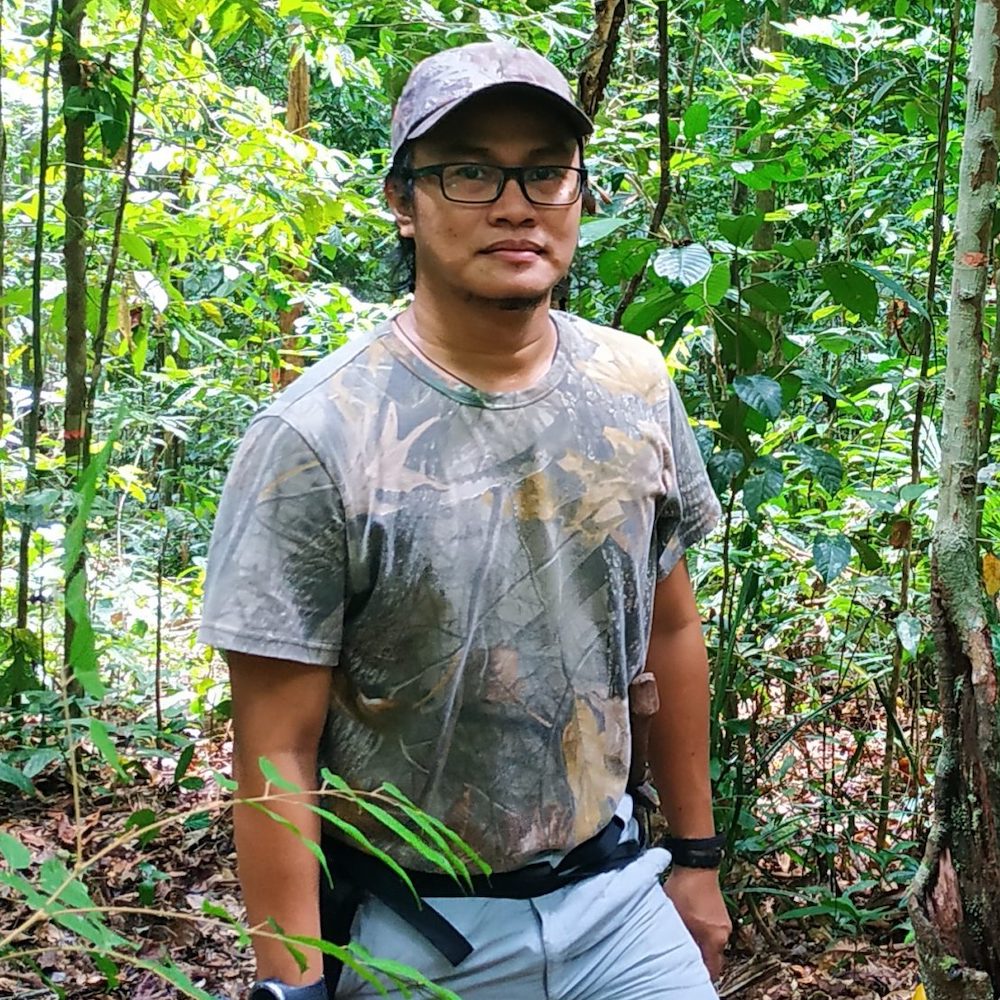 Tri Wahyu Susanto
Research Director
Wahyu collected his Master's Thesis research in Gunung Palung in 2009 and has been returning ever since. Though based in Jakarta, Wahyu frequently visits Cabang Panti Research Station every few months. At Cabang Panti he finds it is a joy to reunite with his friends from the Orangutan Project and all the orangutans he has known for years. Wahyu now facilitates both national and international researchers and students to come to Gunung Palung National Park for various research topics.
Ahmad Rizal
Research Manager
Rizal was previously a student who conducted undergraduate thesis research at Gunung Palung in 2019, studying orangutan seed dispersal. After graduating from university in Jakarta, he was interested in coming back to help manage the Orangutan Project in the field. Rizal is so excited to continue on with his new journey as the Research Manager and he is highly motivated to continue to research and conserve wild Bornean orangutans.
Raden Harissan (Hassan)
Field Research Assistant
Hassan is the longest-serving orangutan field research assistant and is very devoted to working for GPOCP. He's been a part of "Tim OH" since 2008. He enjoys every aspect of following and data collection and is extremely interested in how the data will be used and the impact it will have for science.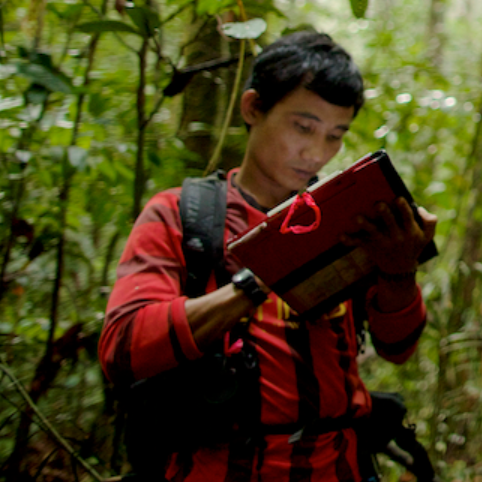 Suharto (Toto)
Field Research Assistant
Toto comes from Matan Village, in the upper reaches of West Kalimantan. He has worked as a research field assistant at GPOCP for over 10 years! Even after all this time, Toto feels lucky that he still witnesses new events in the highly diverse rainforest. For example, he witnessed an interaction between an orangutan, Bibi, and a slow loris (read more about it here).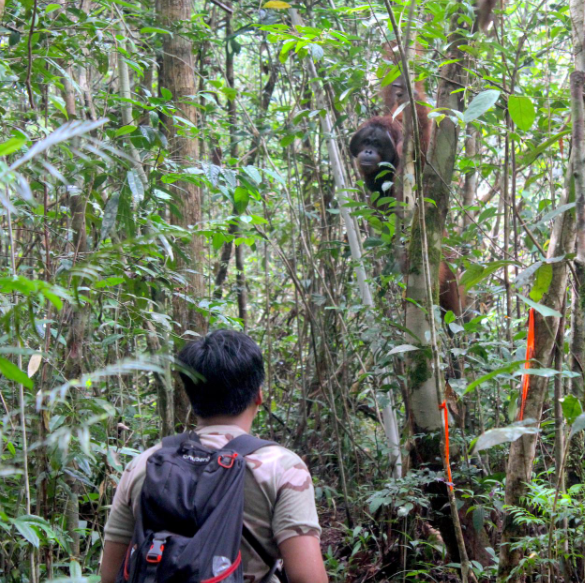 Andi Abdul Sabta Pelari (Sabta)
Field Research Assistant
Sabta has worked as a research assistant at Cabang Panti for over 7 years and comes from Tanjung Gunung village. As part of working as a research field assistant, one of his favorite memories was being able to travel to Tuanan Research Station, in central Kalimantan, to learn more about how orangutan research is conducted at other research stations across Borneo.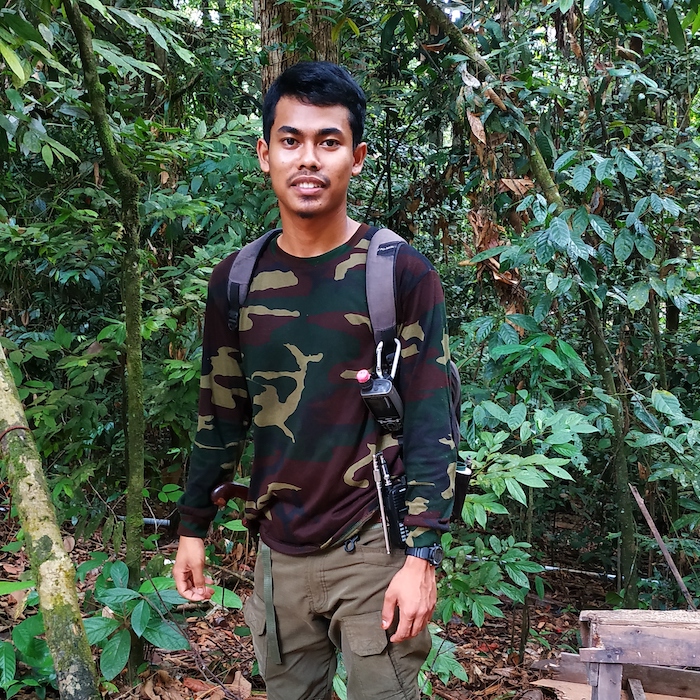 Sahril Ramadani
Field Research Assistant
Sahril has been working at Cabang Panti for about 6 years. He comes from Tanjung Gunung village and he first started working as the camp assistant, taking care of basic camp needs such as cleaning and maintenance. Then he was appointed to work as a research field assistant to collect data on orangutans. Sahril enjoys finding some of the rarer and more interesting animals of the rainforest, he was even lucky enough to find a tarsier. However, Sahril enjoys seeing all animals and insects, regardless of their rarity.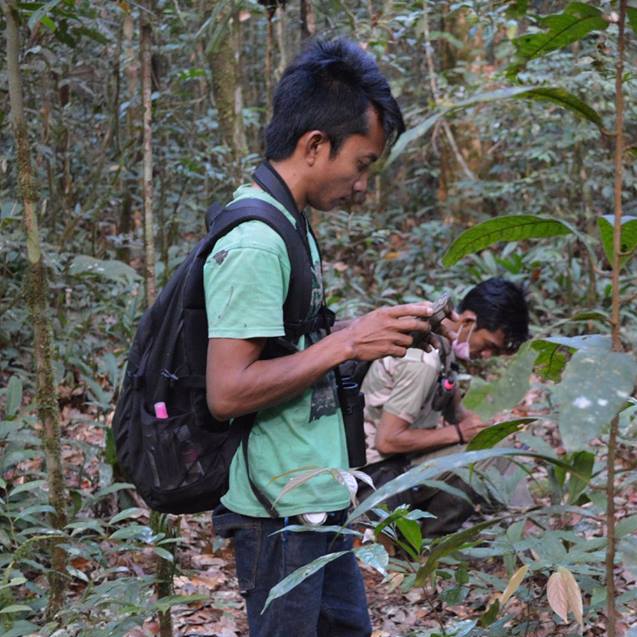 Supianto (Dang)
Field Research Assistant
Dang has been working as an orangutan research assistant since March 2017. He comes from Sedahan village and has 2 sisters. He also happens to be the uncle of Field Assistant Yogi!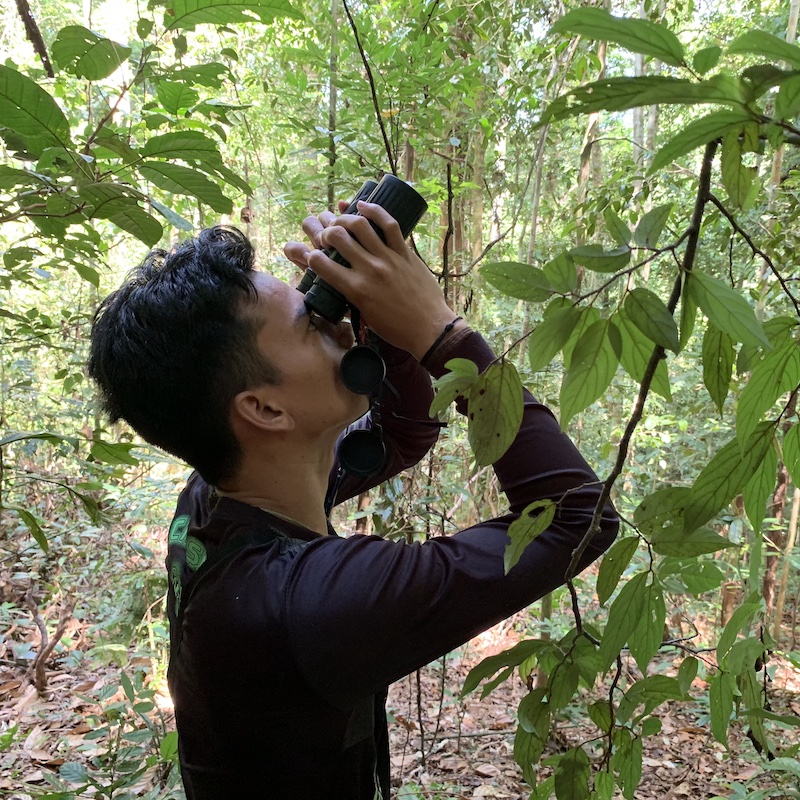 Yogi Saputra
Field Research Assistant
Yogi began working as a Field Research Assistant in 2018 after his uncle, Dang, joined the team the year prior. Yogi comes from Sedahan village and is one of the youngest members of our staff!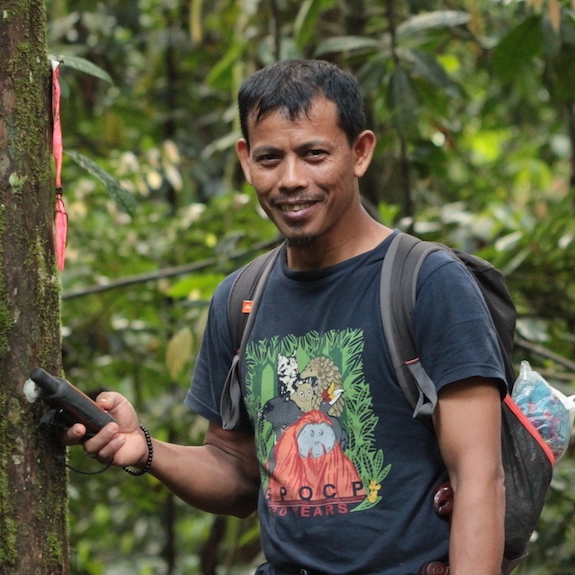 Herman
Field Research Assistant/ Camp Maintenance
Herman comes from Tanjung Gunung village and first came to Cabang Panti as a logistics porter. He developed a close relationship with everyone at camp, especially once his son, Sahril, began working as a Field Assistant. After being a crucial part of our orangutan nest survey team, he was asked to join as a full time member of our research staff. He's especially skilled at finding orangutans in the forest!
Randha (Landa)
Phenology Assistant
Landa first came to Cabang Panti when the project first started in 1994, making him the most senior assistant. Read more about his long history with Gunung Palung here. He now helps to manage our long-term phenological data collection throughout the study site.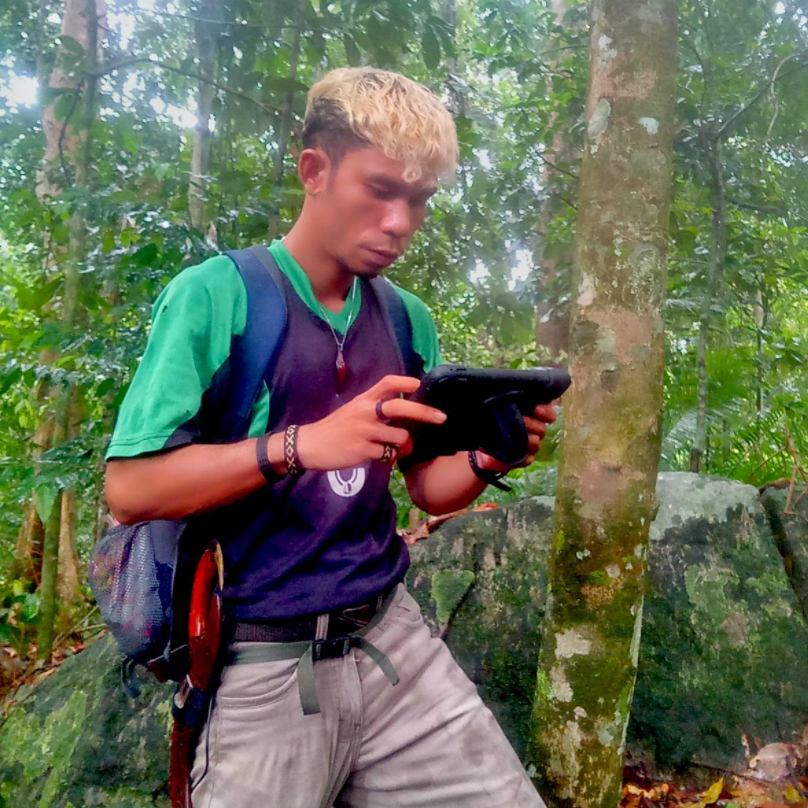 Jaka (Jak)
Field Research Assistant
Jak, who comes from Sukadana village, joined our team in March 2021 after having worked for the One Forest Project for many years. Already with in-depth knowledge about phenology data collection, Jak has learned to take behavioral data on wild orangutans.
Dika
Field Research Assistant
Dika comes from Sedahan village and also joined our team in March 2021, after having worked for the One Forest Project.
Sumihadi (Sumi)
Field Laboratory Assistant
Sumi comes from Sandai village and first came to Cabang Panti as an intern as part of the West Bornean Orangutan Caring Scholarship. Eventually she conducted her undergraduate thesis work at Cabang Panti, and upon graduation, came back to work as a laboratory assistant.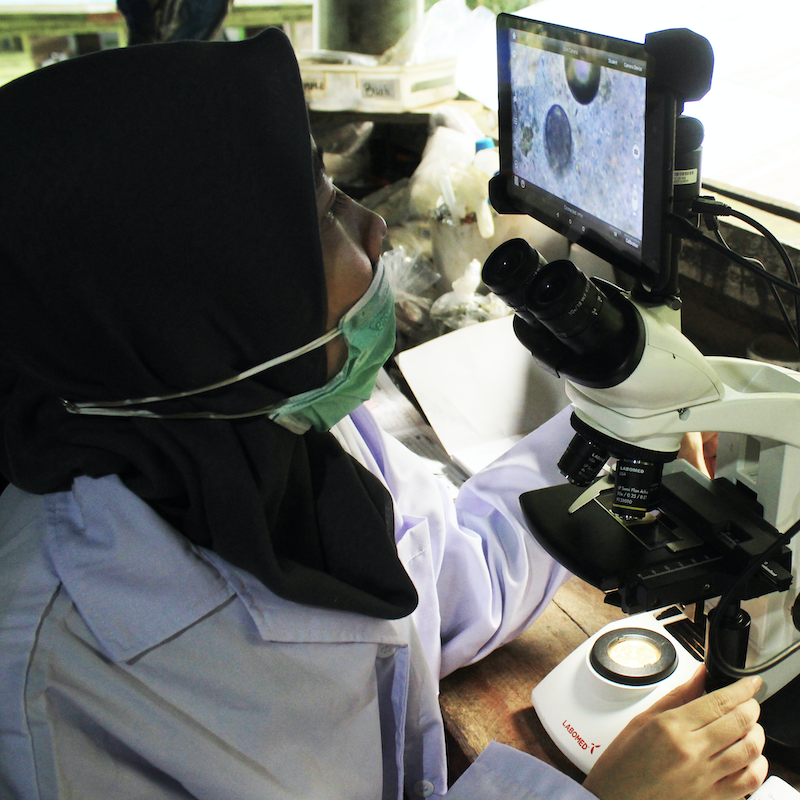 Ishma Fatiha Karimah
Field Laboratory Assistant
Ishma first came to Cabang Panti from Jakarta in 2018 to conduct research on orangutan intestinal parasites for her undergraduate thesis. In 2021 she returned back to the forest to work as our second laboratory assistant, where she still specializes in parasitology.