The Gunung Palung Orangutan Project staff, although small in numbers, have a huge impact on the success of the research project. Without their expertise and hard work in the field, data collection would be impossible! The field team is made up of a Research Manager, 3-4 volunteers and/or graduate students, and the core team of 5 Indonesian field assistants. The staff spend every day in the forest, working in teams of two people to either search for or follow the wild orangutans that we study. A typical follow day involves waking up before dawn to arrive at the orangutan's night nest before the individual awakes and then following that individual until they make their night nest. While following, one field assistant is responsible for taking extensive behavioral data on the focal individual for the entire day. This data includes the primary behavior of the individual for each minute of the day and recording the length of feeding bouts, types of foods eaten, social interactions between the focal individual and other orangutans, mating data, fighting data, and additional notable behavioral observations. The other field assistant is also responsible for collecting urine and fecal samples from the individual, taking GPS tracking data for the duration of the follow, and collecting fruit and leaf samples of the orangutan foods. On days when they are not collecting orangutan data, the field assistants re-tag and clean the trails and collect additional fruit/leaf samples for analysis.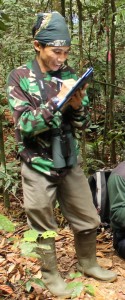 Hassan is extremely devoted to working for GPOP and has a true a passion for conservation! He enjoys every aspect of following and data collection and is extremely interested in how the data will be used and the impact it will have for science.
Agus recently graduated from the State University of Jakarta and joined our team as a Botanical Assistant. During his undergraduate studies, he  worked with lorises and macaques, assisting International Animal Rescue with field surveys. Those experiences helped prepare him for long days in the forest following orangutans and collecting fruit samples in Gunung Palung.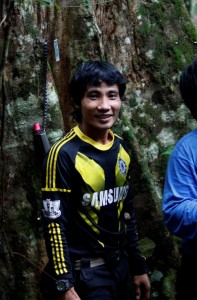 Suharto (Toto) is one of the newer field assistants but his eagerness to learn has served him well! Toto is very fast in the forest and his energy and enthusiasm for following orangutans is much appreciated by the rest of the staff.
Maryadi is another of the newest field assistants. Orangutans eat a wide variety of foods and sometimes learning the tree and fruit identification can be overwhelming, but Maryadi is a quick learner and he thoroughly enjoys this part of his job!
Research Manager, Kat Scott, is originally from the U.K. and has been doing orangutan research and conservation work in Kalimantan since 2012. Before coming to Gunung Palung, she performed proboscis monkey surveys in Balikpapan (East Kalimantan), researched orangutan behavior in an oil palm plantation in East Kalimantan, and volunteered at Orangutan Foundation International near Tanjung Puting, Central Kalimantan. She hopes to continue working with orangutans in the future, possibly studying this amazing orange great ape for her Ph.D.