We thank you for your interest in employment with Gunung Palung Orangutan Project!
Occasionally we have vacancies to fill within our offices in Indonesia and/or within our US Headquarters in Boston. Any and all openings will be listed below as soon as they become available. If you see a position you are interested in applying to, please carefully follow all application instructions listed in the job description. We look forward to hearing from you!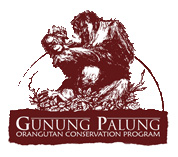 Program Director, Gunung Palung Orangutan Conservation Program, Borneo
Background of Organization
Gunung Palung Orangutan Conservation Program (GPOCP) is dedicated to the conservation of orangutans and biodiversity in and around Gunung Palung National Park (GPNP). GPNP is home to one of the last remaining tracts of pristine lowland dipterocarp forest in the world and the critically endangered Bornean orangutan. Our mission is to conserve wild orangutans through habitat and animal protection, working closely with local communities and governments. We take a multi-pronged approach to conservation, employing five main strategies: 1) Habitat protection through legal protection of community forests 2) Development of environmentally friendly and sustainable livelihoods that protect forests 3) Environmental education and conservation awareness about orangutans and habitat protection 4) Wildlife crime investigation and habitat monitoring and 5) Scientific Research. GPOCP was founded in 1999 by orangutan researchers Dr. Cheryl Knott and Dr. Elizabeth Yaap to address the conservation threats facing wild orangutans in GPNP by working with local communities. GPOCP was legally registered as an Indonesian NGO in 2002 under the name Yayasan Palung.
Job Description: Program and Development Director
We are currently seeking a highly-motivated and committed individual to oversee our programs in Indonesia and our fundraising efforts. The Program Director is a senior position on the ground, reporting directly to Dr. Cheryl Knott (Executive Director). The ideal candidate will have previous experience in conservation or community development in Indonesia, and working proficiency in Bahasa Indonesia.
The Program and Development Director will be responsible for:
Fundraising and Program Development (35%)
Support the on-going development of our programs and related activities; Oversee strategic planning; work with staff and board to strategize and develop new directions for Yayasan Palung that will accomplish its ultimate goal of orangutan conservation; identify funding opportunities and develop appropriate funding proposals in close coordination with the Executive Director; produce grant reports for existing grants and new grant funding received; assist the Executive Director in liaising with and reporting to current and potential donors; organize site visits for current and potential donors; represent GPOCP in Indonesia at workshops and meetings with other NGOs and government agencies.
Staff Management (25%)
Directly oversee the 20 Indonesian staff with support of Program Managers; hold monthly meetings to maintain open communication between project teams; monitor and evaluate staff performance, including reviewing contracts; advise Executive Director on personnel decisions.
Communications (10%)
Create monthly newsletters on program activities; make regular Facebook, Twitter, and Instagram postings; update website to inform and empower individual supporters abroad.
Capacity Building (10%)
Tailor staff capacity building activities to existing and needed skills; conduct internal capacity building activities to build basic office, computer and language skills; assist staff in planning, implementing, monitoring and evaluating program activities through annual and monthly work plans and reports; coordinate visits and training from outside experts and volunteers; assist staff in identifying relevant external training courses they can attend to help further build capacity.
Financial Oversight (10%)
Provide oversight of financial reporting, cash management and banking; Responsible for maintaining and adherence to program and grant budgets.
Reporting and Administrative Duties (10%)
Regularly liaison with Executive Director via email and Skype; submit monthly program activity and progress reports; produce an annual report each year.
Qualifications/Experience
Master's degree in biological anthropology, primatology, conservation biology, ecology, natural resource management or related field
Language fluency in both English and Bahasa Indonesia
Demonstrated knowledge and experience in grant writing and reporting
Previous fundraising experience (including with foundations, individuals, corporations and/or government is desirable)
Understanding of conservation and development issues in Southeast Asia
Experience in tropical field conservation and/or research projects (minimum 3 years)
Staff management and coordination experience
Experience managing internal capacity building
Ability to work productively with a multicultural staff in remote, rural areas
Excellent written and verbal communication skills
Computer Proficiency (including Excel and other Office software)
Experience with data management software such as Access or Filemaker is desirable
Previous experience working in Indonesia is desirable
Term of Appointment
2 years (extendable upon agreement by both parties)
Closing Date
Accepting applications until position is filled
Application Instructions
Candidates are invited to apply by emailing a Cover Letter detailing why you believe you are suitable for the position, Curriculum Vitae, writing sample and three references to Executive Director, Cheryl Knott: knott@bu.edu with the job title as the subject heading. All applications should be made in English.
---
Gunung Palung Orangutan Project Volunteer Research Assistant
Location: Ketapang, West Kalimantan, Indonesia
Closing date: Accepting applications until position is filled
Job Description:
Motivated individuals are needed for a minimum one-year (with a possible extension to two years) research assistant position studying wild orangutans in Gunung Palung National
Park, West Kalimantan, Indonesia. This project is a long-term study led by Dr. Cheryl Knott of Boston University and is located in a remote area of primary tropical rain forest in Borneo. The project addresses a host of questions relating to the nutrition, reproduction, and social structure of these endangered great apes.
Responsibilities include, but are not limited to: assisting field staff with orangutan data collection; collecting and processing urine and fecal samples; processing and assisting in the identification of fruit samples and other orangutan foods; data entry and analysis; orangutan photography and videography; assisting with various daily camp functions and involvement with our conservation outreach program. We are also beginning to collate media from following orangutans, so volunteers will be able to get involved with not only maintaining these databases but actually taking images and videos in the field.
The position will provide volunteers with the opportunity to study orangutans in the wild and to gain valuable field research experience in one of the last remaining primary rainforests in Indonesia. Volunteers are expected to work 25 days of every month with time off to relax in the nearby town of Ketapang or get involved in other aspects of the project. The length of the work day is dependent on the work undertaken; following orangutans for up to 14 hours a day or helping process fruit and other samples at camp are just two examples of daily tasks that volunteers may be assigned to. No two days are the same, and volunteers are expected to come with an open mind and a hardworking attitude.
Qualifications/Experience:
Applicants should ideally have an anthropology or biology related undergraduate degree, a strong interest in primate ecology and behavior, previous rain forest experience, be physically fit, independent, resourceful, able to handle substantial responsibility and have lots of energy! You must be comfortable living in a remote (but stunning) setting with few amenities- we live in the middle of a rainforest so interpersonal skills are very important as you will be living and working in close proximity to other researchers and local assistants. Fluency in English is essential and basic Indonesian is preferred. Cultural sensitivity and respect is important and volunteers must be ready to adapt to a wide variety of situations.
Support provided for internship/volunteer positions (travel, meals, lodging):
Applicants are expected to cover travel to the study location, including international and domestic flights, food and hotels, as well as RISTEK research permit fees (approx. $500) and SIMAKSI fees (approx.. $1500). We will provide housing in Ketapang (including Wifi) and living expenses while at the field site will be covered by the Project. Research Assistants are required to purchase their own personal equipment (i.e., binoculars, compass, clothing, health insurance, etc.), as well as relevant vaccinations and malaria medication.
Term of Appointment:
1 year (extendable upon agreement by both parties)
Closing Date
Accepting applications until position is filled
Application Instructions
Position will be open until filled, so interested applicants should email a CV, 2 letters of recommendation, and a two-page personal statement to Project Director, Cheryl Knott, knott@bu.edu
Cheryl Knott
232 Bay State Road
Boston, MA 02215
USA
Telephone Number:
1-617-353-7723
Fax Number:
1-617-353-2610
Additional Resources
If you're looking for primate-related employment or volunteer opportunities, Primate Jobs is a great resource. For general conservation and green job opportunities visit the Conservation Careers, Society for Conservation Biology Jobs Board or StopDodo. Best of luck!