We thank you for your interest in employment with Gunung Palung Orangutan Project!
Occasionally we have vacancies to fill within our offices in Indonesia and/or within our US Headquarters in Boston. Any and all openings will be listed below as soon as they become available. If you see a position you are interested in applying to, please carefully follow all application instructions listed in the job description. We look forward to hearing from you!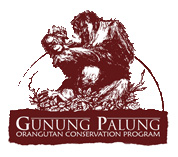 Gunung Palung Orangutan Project Volunteer Research Assistant
Location:                    Ketapang, West Kalimantan, Indonesia
Closing date:              Accepting applications until position is filled
Job Description:
Motivated individuals are needed for a minimum one-year (with a possible extension to two years) research assistant position studying wild orangutans in Gunung Palung National
Park, West Kalimantan, Indonesia. This project is a long-term study led by Dr. Cheryl Knott of Boston University and is located in a remote area of primary tropical rain forest in Borneo. The project addresses a host of questions relating to the nutrition, reproduction, and social structure of these endangered great apes.
Responsibilities include, but are not limited to: assisting field staff with orangutan data collection; collecting and processing urine and fecal samples; processing and assisting in the identification of fruit samples and other orangutan foods; data entry and analysis; orangutan photography and videography; assisting with various daily camp functions and involvement with our conservation outreach program. We are also beginning to collate media from following orangutans, so volunteers will be able to get involved with not only maintaining these databases but actually taking images and videos in the field.
The position will provide volunteers with the opportunity to study orangutans in the wild and to gain valuable field research experience in one of the last remaining primary rainforests in Indonesia. Volunteers are expected to work 25 days of every month with time off to relax in the  nearby town of Ketapang or get involved in other aspects of the project. The length of the work day is dependent on the work undertaken; following orangutans for up to 14 hours a day or helping process fruit and other samples at camp are just two examples of daily tasks that volunteers may be assigned to. No two days are the same, and volunteers are expected to come with an open mind and a hardworking attitude.
Qualifications/Experience:
Applicants should ideally have an anthropology or biology related undergraduate degree, a strong interest in primate ecology and behavior, previous rain forest experience, be physically fit, independent, resourceful, able to handle substantial responsibility and have lots of energy! You must be comfortable living in a remote (but stunning) setting with few amenities- we live in the middle of a rainforest so interpersonal skills are very important as you will be living and working in close proximity to other researchers and local assistants. Fluency in English is essential and basic Indonesian is preferred. Cultural sensitivity and respect is important and volunteers must be ready to adapt to a wide variety of situations.
Support provided for internship/volunteer positions (travel, meals, lodging):
Applicants are expected to cover travel to the study location, including international and domestic flights, food and hotels, as well as RISTEK research permit fees (approx. $500) and SIMAKSI fees (approx.. $1500). We will provide housing in Ketapang (including Wifi) and living expenses while at the field site will be covered by the Project. Research Assistants are required to purchase their own personal equipment (i.e., binoculars, compass, clothing, health insurance, etc.), as well as relevant vaccinations and malaria medication.
Term of Appointment:
1 year (extendable upon agreement by both parties)
Closing Date                                                 
Accepting applications until position is filled
Application Instructions
Position will be open until filled, so interested applicants should email a CV, 2 letters of recommendation, and a two-page personal statement to Project Director, Cheryl Knott, knott@bu.edu
Cheryl Knott
232 Bay State Road
Boston, MA 02215
USA
Telephone Number:
1-617-353-7723
Fax Number:
1-617-353-2610
Additional Resources
If you're looking for primate-related employment or volunteer opportunities, Primate Jobs is a great resource. For general conservation and green job opportunities visit the Conservation Careers, Society for Conservation Biology Jobs Board or StopDodo. Best of luck!