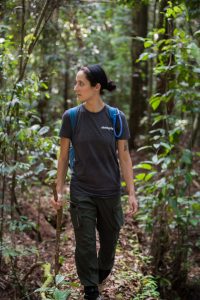 Conservation Program Director
Victoria Gehrke, MSc.
Originally from Sweden, Victoria draws on her experience from working with conservation projects in countries including Madagascar, Costa Rica and Honduras. Her research and interest lie in tropical forest conservation ecology and forest connectivity. She strongly believes in the grassroots-to-government approach, highlighting community engagement and empowerment for long-term wildlife conservation success.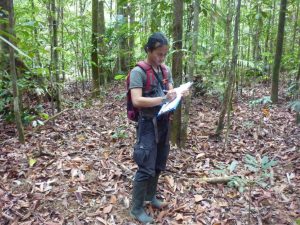 Research Director
Wahyu Sustanto, MSc.
Wahyu has been studying orangutans in Gunung Palung National Park since he was a high school student and supported by GPOCP himself. Wahyu now facilitates both national and international researchers and students to come to Gunung Palung National Park.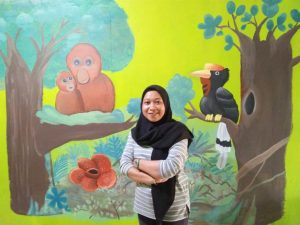 Field Coordinator 
Ranti Naruri
Ranti first joined GPOCP as and Environmental Education Field Officer and has delivered over 1000 puppet shows to pre-school children. She has since taken the step towards logistics and implementation of field activities for wildlife conservation.
SUSTAINABLE LIVELIHOODS TEAM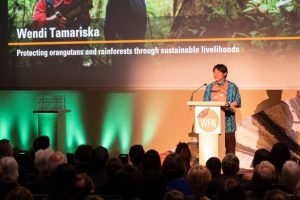 Sustainable Livelihoods Manager
Wendi Tamariska, 2019 Whitley Award Winner
Wendi's focus lies in developing communities in the Gunung Palung landscape within Sustainable Livelihoods such as Non-Timber Forest Products, organic agriculture, and aquaculture. Wendi also joined GPOCP originally as a member of our Education team, but quickly found his passion for wildlife education through community empowerment. Wendi has also recently won the prestigious Whitley Award for global conservation heroes for all his hard work and success with sustainable community development.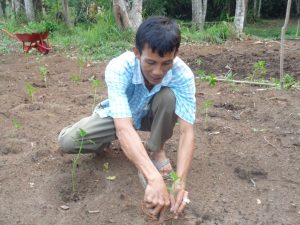 Sustainable Livelihoods Field Officer – Organic Farming 
Asbandii
Asbandii works closely with the organic farming groups, recruiting primarily illegal loggers or miners into the groups to help provide alternative and sustainable livelihoods for their families.
Asbandii specializes in making organic compost and leads our organic farming demplots in Bentangor, producing seedlings for reforestation efforts and farmer groups to initiate their own plots.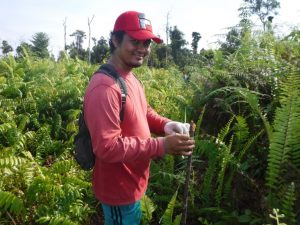 Sustainable Livelihoods Field Officer – NTFP Artisans 
Abdul Samad
Samad works primarily with our Non-Timber Forest Product artisans groups to help develop their skills in product making as well as business and networking. He also monitors and reports on all product production, value and range across all the groups including the aquaculture and organic farming groups.
CUSTOMARY FOREST TEAM (HABITAT PROTECTION)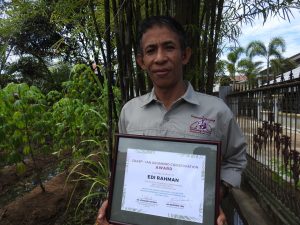 Customary Forest Manager
Edi Rahman, Ian Redmond Award Winner 2018
Edi has been with GPOCP almost since the start and has seen all the changes and successes throughout the years. Edi has a degree in Political Science from Tanjungpura University in Pontianak. Edi works for wildlife conservation through the Customary Forest initiative, where high-biodiversity value forests are identified and legally protected for local communities to manage and use responsibly. This model is a relatively new national conservation strategy but through follow up monitoring and capacity building is proven more than successful. Our Customary Forest Management groups (local villagers who take the responsibility to care for the forest and its inhabitants) received regular capacity building within everything from biodiversity surveying and report making, to agroforestry and packaging products for sale fo a sustainable livelihood.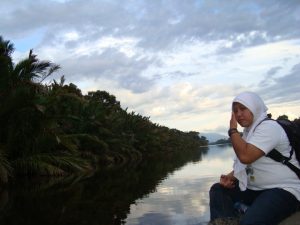 Customary Forest and Legal Coordinator 
Desi Kurniawati, BA Law

Desi is another GPOCP veteran and leads the way for complex legal processes that is the Customary Forest application and maintenance procedures, as well as for animal protection and persecution follow up.
Desi also leads our Conservation Awareness Radio shows and loves working with communities for their sustainable development and empowerment.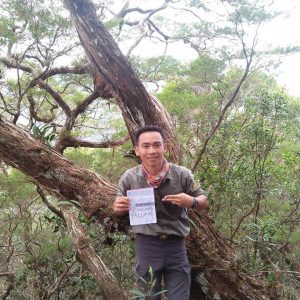 Customary Forest Field Officer 
Hendri Gunawan, BA. Law
Hendri is our Bornean Orangutan Caring Scholarship alumni, having graduated with a degree in law. He works closely with the Customary Forest communities to educate, socialize and disseminate information for full informed participation and advice. Hendri is more than enthusiastic and great at winning over even the most skeptic of villagers with well explained legal facts.