We thank you for your interest in employment with Gunung Palung Orangutan Project!
Occasionally we have vacancies to fill within our offices in Indonesia and/or within our US Headquarters in Boston. Any and all openings will be listed below as soon as they become available. If you see a position you are interested in applying to, please carefully follow all application instructions listed in the job description. We look forward to hearing from you!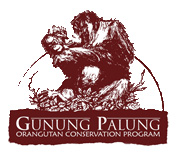 GPOCP/Yayasan Palung Field Director (Indonesian applicants only)
Position:                     Field Director
Location:                    Ketapang, West Kalimantan, Indonesia
Closing date:              Accepting applications until position is filled
Background on Organization
Gunung Palung Orangutan Conservation Program (GPOCP) is dedicated to the conservation of orangutans and biodiversity in and around Gunung Palung National Park (GPNP).  GPNP is home to 5-10% of the world's orangutans and represents one of the last remaining tracts of pristine lowland dipterocarp forest.  To give back to local communities and address real conservation threats to GPNP, orangutan researcher Dr. Cheryl Knott founded GPOCP in 1999.  GPOCP was legally registered as an Indonesian NGO in 2002 under the name Yayasan Palung.  Our community-based programs include environmental education, a public conservation awareness campaign, animal rescue, activities to prevent illegal trade in endangered species and to reduce human-orangutan conflict, development of environmentally friendly and sustainable livelihoods for local communities, a community forest project, and scientific research on wild orangutan populations.
Job Description: Field Director
We are currently seeking a highly-motivated and committed individual to oversee our programs and staff in the field and to represent Yayasan Palung in the local, regional, and national spheres.  The Field Director is a senior position on the ground, working with the conservation program staff, and reporting directly to the Program Director. The ideal candidate will have previous experience working with environmental conservation or community development NGOs, and working proficiency in English.
The Field Director will be responsible for:
Staff Management (50%)
                Directly oversee the 15 program and administrative staff, with support of the Program Managers, to ensure that our obligations to donors are being carried out in the field as proposed; participate in field activities on a regular basis; in collaboration with the Program Director, hold monthly meetings to maintain open communication between project teams; monitor and evaluate staff performance, including reviewing contracts
Relationship Building (25%)
                Maintain and strengthen Yayasan Palung's relationship with Balai Taman Nasional Gunung Palung so that our conservation work has maximum impact for orangutan conservation in the National Park; represent Yayasan Palung at regional and national workshops and seminars; coordinate with local government agencies on behalf of Yayasan Palung; routinely communicate with Yayasan Palung board and advisory council members
Operations and Financial (15%)
                Assist the administrative team with routine tasks, including monitoring expenditures and checking financial files; communicate about Yayasan Palung's financial status with the Program Director on a routine basis and assist in making financial decisions when appropriate
Conservation Strategy (10%)
                Advise program managers on monthly goals and targets, in accordance with donor commitments; With input from the conservation program staff, and knowledge of threats to orangutans specifically in Ketapang and Kayong Utara, share recommendations on conservation strategy with the Program and Executive Directors; assist with organizational strategic planning
Qualifications/Experience
Master's degree (S2) or equivalent experience in conservation biology, sustainable/community development, environmental management, or a related field
Proficiency in English
Previous experience working with NGOs, preferably international organizations, and an understanding of how NGO funding works
Management experience
Ability to multi-task
Commitment to community-based wildlife conservation
Excellent communication and cross-cultural skills
Willingness to live in Ketapang, West Kalimantan
Salary/funding
A salary will be provided, commensurate with experience
Term of Appointment
1 year (extendable upon agreement by both parties)
Closing Date                                                 
Accepting applications until position is filled
Application Instructions
Candidates are invited to apply by emailing a Cover Letter detailing why you believe you are suitable for the position, Curriculum Vitae or resume, and three references to Executive Director, Cheryl Knott: knott@bu.edu and cc: savegporangutans@gmail.com, with the job title as the subject heading. All applications should be made in English.
Additional Resources
If you're looking for primate-related employment or volunteer opportunities, Primate Jobs is a great resource. For general conservation and green job opportunities visit the Society for Conservation Biology Jobs Board or StopDodo. Best of luck!