By Terri Breeden, GPOCP Program Director
We hope everyone was able to go out and celebrate our beautiful Planet Earth on Earth Day. We were quite busy here in Indonesia celebrating as well. But this got me thinking… how did Earth Day come about? I decided to do some digging and found out that it originally started on April 22, 1970 when millions of Americans rallied to support environmental protection after the 1969 oil spill in Santa Barbara, California. This later paved the way for the United States Environmental Protection Agency and legislation such as the Clean Air, Clean Water, and Endangered Species Acts. Today, Earth Day is celebrated around the globe. This year's theme aimed to reduce plastic pollution, so GPOCP participated with our own activity here in Ketapang!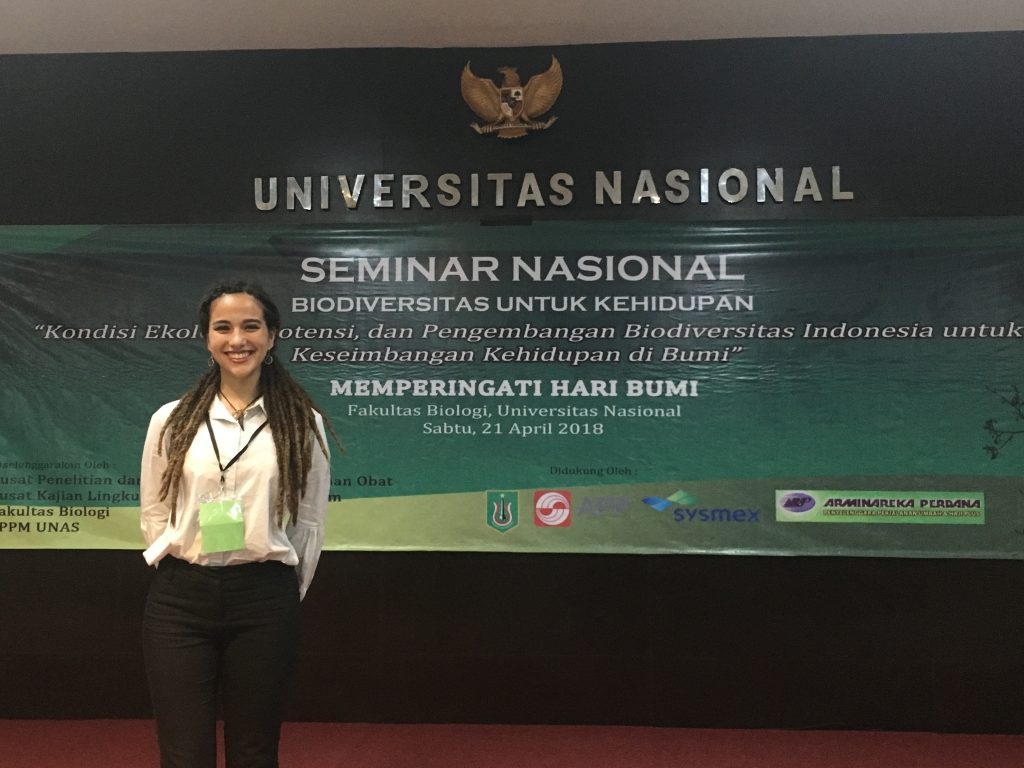 Dania presenting about orangutan research being carried out at Cabang Panti, during a conference held at the National University in Jakarta (UNAS).
To start our Earth Day festivities, our volunteer, Dania Magaly Abizaid Herrera, gave a talk at the National University in Jakarta (UNAS). The theme of the conference was Biodiversity for Life. This conference covered a range of subjects, including medicinal plants, fisheries, and animal behavior. Dania gave an overview of the research taking place at the Cabang Panti Research Station involving orangutans. She focused on our current research project that is investigating why juvenile orangutans grow so slowly.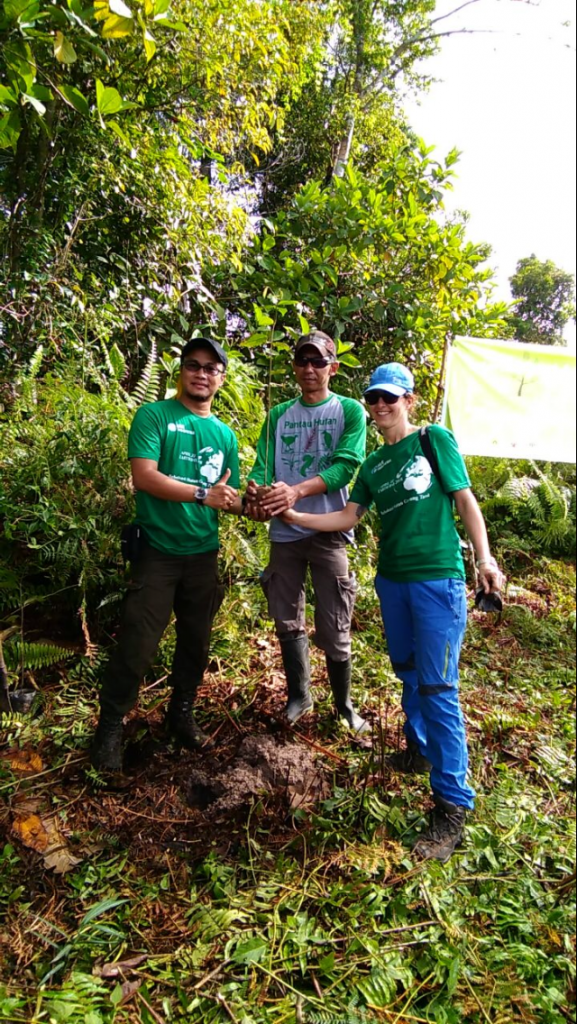 Wahyu Susanto, GPOCP Research Director, with Pak Ari, Head of GPNP, and Karmele Llano Sanchez, International Animal Rescue, planting trees at Gunung Tarak.
We also had many eventful activities in West Kalimantan. Our Sustainable Livelihoods team paired up with the local farming group in one of our Customary Forest villages, Pulau Kumbang. This village sent us a proposal with the goal of planting 1,000 trees for Earth Day. GPOCP was excited to see a local community take initiative and recognize the importance of healthy forests! We also helped rehabilitate forests within Gunung Palung National Park with International Animal Rescue (IAR). IAR's Earth Day activity included replanting trees at Gunung Tarak and we were honored to participate.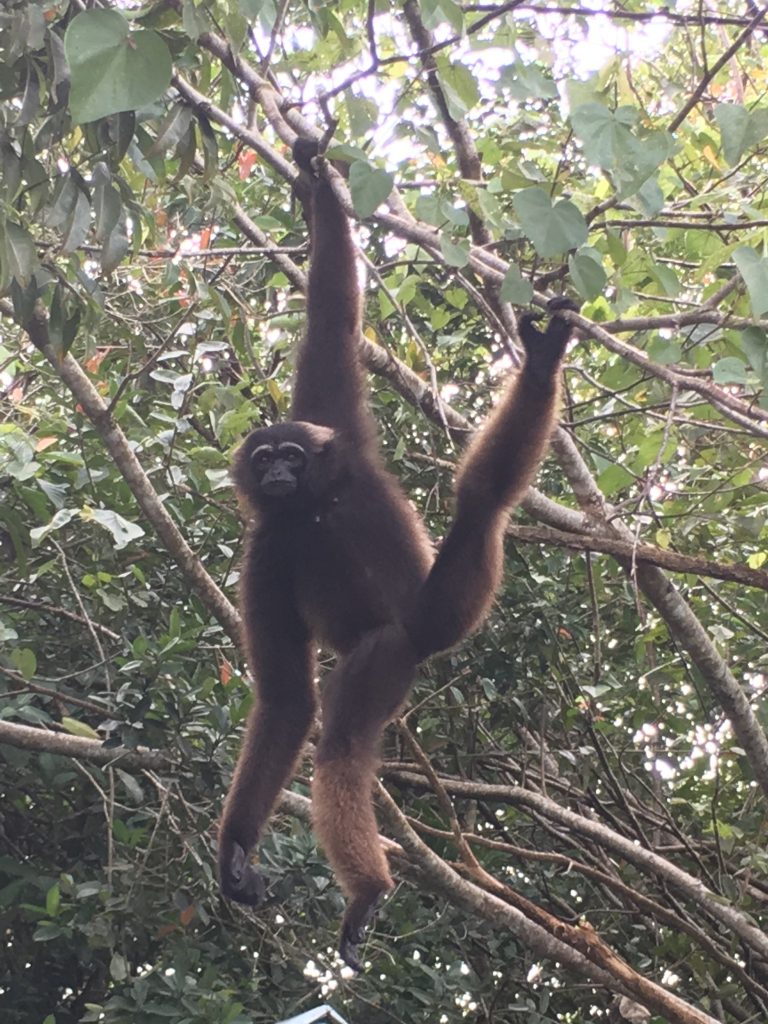 A gibbon hanging from a tree at Hutan Kota in Ketapang.
Because we were so busy on Earth Day, we held our own clean-up event on April 29th. We invited the Forestry Management Department, the local sanitation department, and our youth groups (TAJAM, ReBONK, and Sispala Care) to clean up Hutan Kota, or the City Forest. This small forest is a local attraction to everyone in the town of Ketapang. It offers a wide variety of wildlife, not far from the city center. It is common to see macaques playing, gibbons calling, and proboscis monkeys leaping amongst the trees. Unfortunately, waste has piled up along the trails of Hutan Kota so GPOCP decided to take action. We organized the troops and had a massive cleaning of the trails and we posted new signs about the dangers of trash to wildlife. The local radio station joined in our event and conducted interviews where we were able to discuss the importance of throwing trash in its proper place and being more environmentally friendly by reducing the use of single use plastics.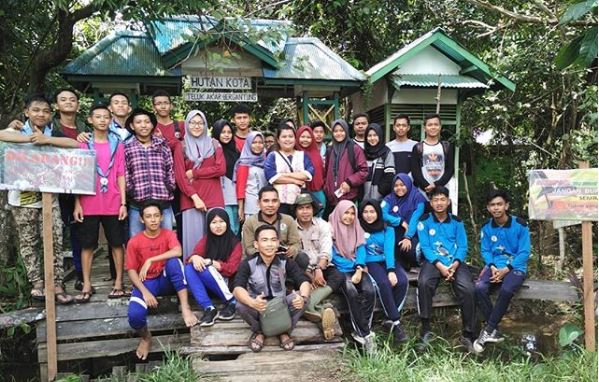 Thanks to all the volunteers who helped clean Hutan Kota! Photo credits GPOCP.